BIOGRAPHY:
An industrial formation combining militant and neo-classcal motifs with Middle Eastern percussion and textures, Clear Stream Temple began recording material in late 2001. This formed the basis of their first release, XVI, initially released as a limited CDR, before being reissued as an expanded version by Cold Spring Records in 2003. Containing two new tracks and stunning artwork by Mary MacGregor-Reid, XVI was described by Cold Spring Records as a "genius mix of neo-classical, martial industrial, dark ambient. A timely attack on the US Bush Presidential administration and all that has in store for us."
Whilst inhabiting the more traditional sphere of industrial music, Clear Stream Temple have not be averse to venturing onto the dancefloor, with remixes by The Mercy Cage, Angel Theory, and N.U.T.E, as well as their own Buried in Concrete mix of the album track Pentagonium.
Contact: cst@gydja.com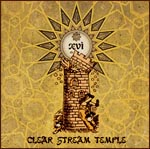 REVIEWS:
Aural Pressure: "The music itself is brilliant at times (tracks 1, 4, 6 and 9 are especially provocative) with wonderful dark ambient moments or bombastic rhythmic pieces. The artwork is also worth a mention - beautifully detailed and geometric in the Islamic tradition."

Fiend magazine: "Avoiding being one dimensional in execution, some compositions are forcefully pounding & militant, others subdued & sinister, & yet others tribal in their musical aesthetic. To name drop, In Slaughter Natives crossbred with Muslimgauze would be a reasonable descriptive comparison. From concept, to execution and to final sleeve design, this is another strong album from the Cold Spring roster."

Terrorizer magazine: "Taking propaganda and news bites from American and Arab news channels and blending them effortlessly with their own cold industrial beats and drones, in a very similar way to Boyd Rice's NON but with a profound Middle Eastern feel, they've made a very of-the-moment release that will haunt you for years to come."